Cool art courtesy of http://sirridley.deviantart.
Click here to get your daily dose of skulls!
In the Summer of 2007, Noah Scalin decided to post a skull everyday for a year on the web. Three years, a book deal called "Skulls" and tons of followers later, Scalin's blog, skulladay.blogspot.com, is still living up to its tenebrous promise. Be sure to surf this blog in its entirety. Some of the coolest skull related stuff Mistress has ever seen is featured here!
Salutations My Dark Little Ghoulies! I keep getting letters asking about how to get the "bloody eye" look that so many of the Rockers are sporting. Well, I am not certain about what Mr Vengeance is wearing, but if I were him, I would be visiting Bobbie Weiner at "
Dear Bloody Mary Cosmetics
". She has the most morbidly delicious shade of red mascara, eye liner and shadow with FREE shipping in the USA! Very affordable (under $25 for the set) and of theatrical quality - Bloody Mary will help you look as HOT as Zack!
Click here ...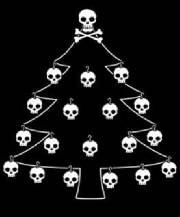 for more gift ideas!
Mistress has had numerous letters recently seeking advice for TENEBROUS holiday gifts. Here are a few places to check out ...
Dear Ms Demon,
ALICE COOPER is coming to our town. I am 15 years old and my friends say the concert is going to be lame 'cause he's so old. I was hoping you could give me a better review so I know whether or not I should spend the cash for tickets. Have you ever been to one of his shows? Thanks!
Ashley from Phoenix AZ
Dear Ashley,
Sugar, whip out that wallet!
ALICE COOPER
may have been around since time began (more like 1969) and he may be 57 years old but the man is a
legend
, has
inspired countless others to preform and still puts on one of the most outrageous shows you will ever see! I just caught Alice in my town at the begining of October and the
Dirty Diamonds
tour ROCKS! He played a two hour set with nonstop hit music and never once stopped moving! His current band boasts some incredible preformers, including former
KISS
Drummer,
Eric Singer
. Tell your friends
they
are lame for thinking this is something to miss!
Dear Ms Angel Demon,
I really love TENEBROUS and I think your site rocks! My favorite page is your closet because I really love goth fashion. I have a suggestion. Can you please include more information about gothic modeling and gothic high fashion? That would be so cool! Thanks!
A "Beastly Beauty"
Dear "Beauty",
I can certainly include more info on gothic fashion, as it is my passion! Look for more information on the wardrobe page regarding your request. In the mean time, check out these links ...
DEAR MS DEMON,
I AM A WICCA. I NOTICED A LACK OF ARTICLES REGARDING MY INTERESTS. I AM SURE I AM NOT ALONE. CAN YOU PLEASE PUT MORE LINKS ABOUT WITCHES OR CAN YOU DO A CREATURE FEATURE ON WITCHCRAFT SUPPLIES ON LINE? THANKS SO MUCH!
A TENEBROUS FAN
I agree! We need more magic around here! Watch for a new WITCHES feature page in the very near future. (NOTE: We are in the process of building a Sortilege to discuss the craft.) In the mean time, check out Creature Features. Also, I will be incorporating some of my sister's photos and gathered information from her recent trip to Salem, Mass. Thanks for you letter and suggestions!
Dear Angel,
I was browsing the web when I stumbled upon your website. WOW! its so refreshing to find someone who really seems to understand the nature of "GOTH". Like you, I am a not the type of person who would be stereotyped as gothic. I let my "tenebrous" nature loose when I need to wind down after a busy day at the office. There is just something very freeing about the lifestyle that satisfies my soul. I just love your links! I have a reccomendation for you and your visitors ... check out
http://darkness.com/
. It has a liitle something for everybody there. Thanks again for gracing the web Ms. Demon!
Morbidly yours,
Nightly Nibbler
HERE ARE SOME JUICY TIPS AND TIDBITS COURTESY OF OUR BELOVEDS
This is the grooviest free desktop I have found! You can download your own interactive corkboard for your pc - complete with a functioning clock, calander and post-its. They have themes too so if you are TENEBROUS minded year round, you can select the HALLOWEEN theme or you can choose the basic style and change with your moods. Check it out!
Looking for some tenebrous fun? Try The
Caverns Of Blood
site! These folks will keep you entertained all night long! A real working cyber
OUIJA board
, a
MAGIC 8 BALL
, super cool graphics, creepy
virtual pets
, links and even a
"Horror Mark"
E-greeting service will make this one of your favorite haunts on the web. Click the clown above to start the fun!!! Thanks for the use of your graphics, Cavern!
Its tough to find a quality sunscreen product for anybody, but when you covet a gothic pallor - its even tougher! I discovered
Neutrogena's Active Breathable Sunblock with Parsol 1789®
This stuff is amazing! It feels like silky powder on your skin, has no odor and lasts all day! Read about it on Neutrogena's official website, and you can find this product in any discount or drug store for around $10.
While surfing thru the web one night, I discovered the coolest site. A virtual road trip to some very kitschy destinations. Come visit The Dead Lounge! This site is so creative and so unexpected, I can't begin to describe in words! If its late and you can't sleep, or you are stuck indoors because of bad weather - The Dead Lounge is the perfect distraction.
Click Here For Daddy-O's!
My
Mary Kay
lady (... yes, Ms A. D. buys
Mary Kay
- if you've seen their lip gloss "
CRANBERRY
" you would understand ...) mentioned 1950's dresses to me the other day. Although this item is usually classified as
Rock-a-billy / Punk
style, I thought it would be nice to share the link I found with you. Not considered
TENEBROUS
, this stuff still reminds me of classic sci-fi and teenage werewolves. Its wild and unique in its own right so check out this great link! The place is called, "Daddy-O's". Thanks for the tip,
Ericha
!
THE TRAGEDY OF KATRINA HAS DEVASTATED BEAUTIFUL NEW ORLEANS! PLEASE OFFER COMFORT AND SUPPORT - DONATE TO THE RED CROSS TODAY! EVERY DOLLAR HELPS RESTORE LIFE!
*Mistress notes that we have had this site link posted since TENEBROUS was first created. Sadly, this is one of the few things remaining after the destruction. Much of the site is still operable. It is truly a treasure so take the time to enjoy the memory of this very special place.
With gas prices out of sight - traveling may not be an option for you. I discovered a fantastic site that may forever cure your wander lust! Take a virtual tour of haunted New Orleans! This site really rocks with ghost stories, vampire tales and voodoo spells! Lots to see, lots of interaction and lots to scare even a a staunch disbeliever! There is even a forum to talk to other virtual tourists.
Finally, affordable realistic fangs from Scarecrow! Click the fangs to visit their site and shop!
Bobbie Weiner, make up artist supreme, has her own line of Goth and Fantasy cosmetics available! Affordable, high quality and fun, this great stuff is readily available year round for we tenebrous types! Check out the entire "Dear Bloody Mary" line! FYI ... She even has pending comics, videos and other surprises in the works.