Olana Sisters' Appearance Schedule:




Please Regard!

We are currently Not offering these two services. Parties and Private Readings are on indefinite hiatus. Thank you for your understanding.

Please, Watch for us to be at Events! We will post all events here.
Saturday, August 11, 2018
On Peach Street between 26th and 18th St. Erie, PA
A 3 Card Tarot Spread - $5
A 7 Card Relationship Guidance Tarot Spread - $8
Old Fashioned Gypsy Witch Spread - $10
Checking Directions Tarot Spread - $10
Olana Sisters will have handmade jewelry and specially blended powder incenses for sale at our table as well!
Next Appearance at
Chicory Hill Herbs will be:
April 2, 2018
Special: Mercury Retrograde Reading with Tarot Cards $10
May 7, 2018
Special: A Reading with The Fairy Ring Tarot created by Anna Franklin $10
June 4, 2018
Special: The Summer Solstice Reading with Tarot $10
July 11, 2018
Special: The Horseshoe Reading with Tarot $10
August 1, 2018
Special: A Dream Interpretation Reading with Tarot $10
September 5, 2018
Chicory Hill Herbs is located at 2516 Peach Street Erie, PA 16502
Call the store at (814) 454-5844 for more information or visit their website at http://www.chicoryhillherbserie.com/
Store hours for Chicory Hill Herbs are 10AM - 6PM. Olana Sisters appears in shop from 1pm - 5pm.

~No reservation is ever required~


Inquire by emailing us: OlanaSisters@aol.com or text at 814-392-3956 for more details.

We will be offering a special featured spread at every Chicory Hill Herbs Cartomancy appearance for $10. Stop in to see what we have on the table!
Our divination spreads available at Chicory Hill are:
A 3 card tarot spread - $5
A 7 card Relationship Guidance tarot spread - $8
"Coming Attractions" 4 card tarot spread - $8
Old Fashioned Gypsy Witch spread - $10
Checking Directions tarot spread - $10
Monthly special featured spread $10
A Madame Lenormand style playing card spread - $12
Buckland's Seven Star Spread - $15
Olana Sisters' famous "Custom Double Reading"*

created for Chicory Hill Herbs appearances

- $30
*The Olana Sisters developed a special divination style exclusively for Chicory Hill Herbs. It is a custom double reading consisting of two complete card layouts, one in the style of
Madame Lenormand
using traditional playing cards in the form of a Lenormand Style Deck and the other layout consists of the Celtic Cross tarot spread. Both spreads are then interpreted together by the Sister(s). It is truly amazing how two separate decks of cards can work in tandem to aid you on your path. Come experience the mysteries of cartomancy with us!
Other layouts are also available upon request.
For more Information on Pathworking Click!
Olana Sisters is a group of metaphysicians dedicated to the illumination and healing of the human spirit through divination as

path-working

viewed in terms of karmic choice. We perform divination through tarot, playing cards, pendulums, psychic readings and crystals as well as other tools. We also offer advice on spell craft, dream interpretation and explore hauntings.



Watch for Possible Halloween Events

Coming soon...

sponsored by spi Productions Inc.

We will be offering

a Gypsy Witch Reading for $10

and a 3 Card Tarot Reading for $5



Exciting News! Olana Sisters announces event & private party packages! Check it out
here
:
Book us for your private party!
Text us at 814-392-3956 or Call 814-898-4535 to learn more!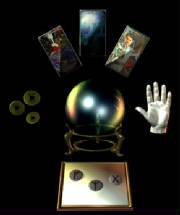 Olana Sisters is always available upon request. Additionally, we do private card readings and other forms of divination.
The Olana Sisters offers private individual readings upon request. Pricing is $30 - $50.
Private instruction in the arts of divination is available for $30 per hour.
Additional services are based upon request with negotiable pricing.
Contact the Sisters via cellphone text at (814)392-3956 or phone at: (814)898-4535